About Us
Welcome to Custom Bobblehead,
A Personalized Bobblehead is the perfect unique gift for all occation. For your family, friend, boss or co-worker. When you give this as a gift the bobblehead is sure to be the talk of the party. Make a Bobblehead wedding cake topper, turn your groomsmen and brides maids in to Bobbleheads and then give the bobble head as the unique gift. Make your favorite person in to a caricature 3D Bobblehead that you can all enjoy.
Handmade Bobbleheads with Attention to Detail
When you purchase from 'CustomBobblehead' you can be certain that you are getting an entirely HANDCRAFTED Bobblehead that our artisans have meticulously sculpted paying close attention to every bobblehead detail. We do not use machining or printing devices at any point of the bobblehead production thereby ensuring your final bobblehead is an authentic work of art.
Bobbleheads are truly humorous. Anybody that receives a Bobblehead as a gift can't stop laughing. All you need is a photo of the person you want to make a Bobblehead for and we will do the rest. 'Custombobblehead.cc' treats every Bobblehead as a piece of art, thats right a piece of ART. Your Bobblehead is HAND sculpted by skilled artisans who will let you see the Bobblehead process. During the process of making the bobble head you will receive an email with your hand scrupled head along side your photo provided. Then after you approve the sculpted head proof, you will then receive the painted Bobblehead proof for your approval to insure you receive a great Bobblehead.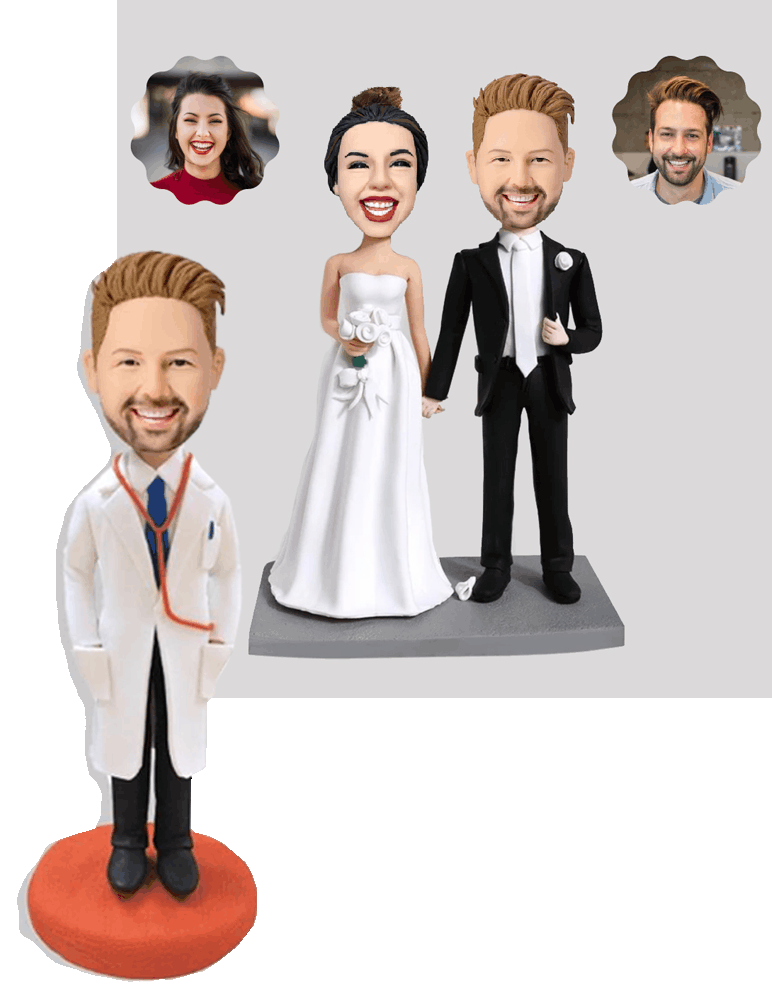 A Bobble head makes a great gift.
Roll Out the Red Carpet
NOW YOU CAN BE THE CELEBRITY! We have all seen move stars, sport ideals and famous politions, now you can have your own bobblehead. We look forward to receiving your Bobblehead order and working on your very own 3D Caricature bobblehead that's bound to put a smile on your face and all that see it!
There are gifts, then there are customized gifts and beyond that are gifts that we cherish forever. We strive to be the creators of such gifts. There are creators, then there are professional creators and beyond that are creators who create memories. We strive to be those creators who through our exclusive and Customized Bobblehead gifts, make you and the occasion etched in the memory of all!
Like the several others who got mesmerized by the beauty and uniqueness of these personalized handmade figirines, we too fell flat for these miniature dolls when we saw them for the first time. We were convinced that nothing can beat the charm of these tiny dolls with their bobbling heads. But just when we thought our love for Bobbleheads will never fade away, we came across some Bobbleheads with shabby designs, no neat personalization and inferior build quality. It was an instant turn off.
And that's when the lightning struck! We thought, if we loved Bobbleheads so much, then why not create them? Eureka! We made our first set of Bobbleheads and they were picked up by other Bobblehead lovers instantly. And as they say the rest is history.
Today Our company "Custom Bobblehead" is serving everyone who is hooked by the simplicity and profound beauty of Bobbleheads, whom we often call, 'God's own dolls'. We have grown in size and today cater to customers across the world, but our dream still remains the same: Create precise, highly personalized and sturdy Bobbleheads. Our approach is professional, our materials are of the best quality and our Bobbleheads are simply incredible!
So, look around, walk through our expansive range of Bobbleheads, pick what you like, tell us if you don't and we will make one tailored as per your wishes. Remember, you are gifting your loved ones, 'God's own dolls.' So don't hesitate to pick as many as you like.
Don't forget to check out our Custom Bobblehead Facebook Page